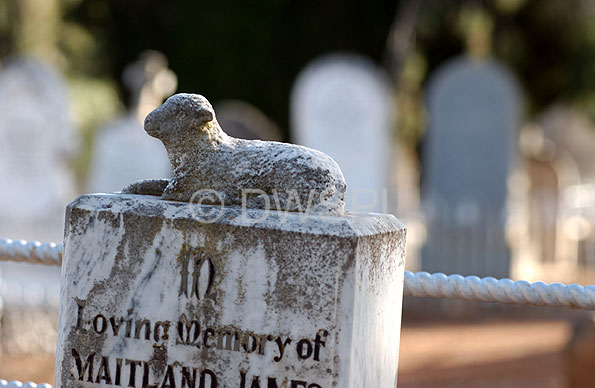 This image is of:
A ROYALTY FREE IMAGE OF: OLD HEADSTONE WITH LAMB ON TOP, CEMETERY, WESTERN AUSTRALIA

Reference Number: 44780

About Image & Pricing:
Royalty Free Image. Rates: Web & Mobile $65 for 72 dpi file, $150 for 3 mb file, $350 for 12 mb file. Larger file size, price to be negotiated.

Photographer:
A Royalty Free Image for unlimited commercial and editorial use © DWSP/S.Sadler (HR/RF)



Keywords:
Australia, wa, western australia, grave, graves, graveyard, graveyards, grave yard, grave yards, cemetery, cemeteries, headstone, headstones, head stone, head stones, gravestone, gravestones, grave stone, grave stones, tombstone, tombstones, tomb stone, tomb stones, burial, burials, burial ground, burial grounds, death, deaths, lamb, lambs, statue, statues.